I'm Naman Modi, a dedicated and seasoned freelance web designer passionate about creating interactive, dynamic, and user-friendly web designs. My expertise lies in crafting custom-tailored designs, which truly encapsulate your brand's essence and help you connect effectively with your audience.
With my years of experience in the digital landscape, I bring a wealth of knowledge and insights to help you navigate the complexities of web design. Whether you are a startup or an established business, my web design services cater to your unique requirements and aspirations.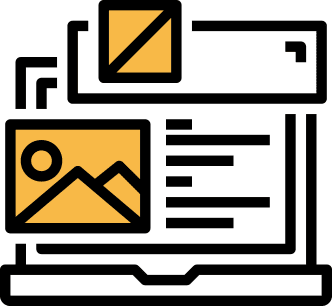 Are you in search of a professional web designer freelancer who brings a fusion of creativity, technical acumen, and a deep understanding of digital trends? Look no further. At Naman Modi Digital, I am committed to translating your vision into a digital reality that amplifies your online presence. Let's embark on this journey of growth together.
Why I Should Be Hired As
Experienced Freelance Web Designer?
Choosing Naman Modi Digital for your web design needs provides you with the advantage of hiring an experienced freelance web designer who puts your business goals at the forefront. I pride myself on delivering high-quality and effective web designs that not only, meet but exceed client expectations.
As an affordable freelance web designer, I offer reasonable prices without compromising the quality of my services. I understand the importance of balancing cost with value, and I am committed to providing services that offer the best return on your investment.
At Naman Modi Digital, you're not just hiring a web designer—you're partnering with a dedicated professional who is consistently ranked among the best freelance web designers. My focus is to create a design that is not only visually appealing but also drives engagement and conversion. Let Naman Modi Digital be your trusted partner in navigating the digital landscape.
Comprehensive Web Design Services Offered by
Naman Modi Digital
At Naman Modi Digital, I am proud to offer a wide range of web design services tailored to meet your needs. Here's an overview of the services I provide:

Custom Web Design
I craft bespoke website designs that reflect your brand's unique identity and cater to your audience's preferences, making me a preferred custom web design freelancer.

UI/UX Design
User experience is paramount in my designs. As a professional in UI/UX design freelance services, I ensure your website is user-friendly, intuitive, and creates memorable experiences for your visitors.

Responsive Web Design
With mobile web browsing now a standard, I offer responsive web design services to ensure your website looks and functions seamlessly on all device types and sizes.

E-Commerce Web Design
As an experienced eCommerce web designer freelancer, I create engaging, secure, and easy-to-navigate online stores that maximize conversions and boost your online sales.

WordPress Web Design
Specializing in WordPress web design services, I can help you leverage this powerful platform's capabilities to create a website that's easy to manage and update.
Web Redesign Services
Are you looking to revamp your existing website? I offer web redesign services to give your site a fresh, modern look while improving its performance and user experience.

Personalized Web Design Services
Every business is unique, and your website should be too. I offer personalized web design services that align with your brand identity, business goals, and target audience's needs.
Journey from Concept to Launch: My Web Design Process
At Naman Modi Digital, I follow a strategic and meticulous design process that ensures every website I craft not only meets but exceeds expectations. As a freelance web design professional, I understand the importance of thoroughness, precision, and effective communication throughout the design journey. Here's a look at my step-by-step process: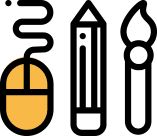 Initial Consultation
I begin by understanding your brand, business goals, target audience, and your specific design requirements; this forms the foundation for a design strategy that aligns with your vision and objectives.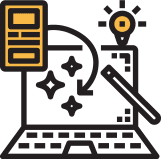 Design Proposal
Based on the initial consultation, I prepare a design proposal outlining the scope of work, timeline, and cost estimate, ensuring complete transparency and accountability from the start.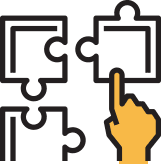 Concept Development
I then work on creating design concepts, where your ideas start taking shape. I invite your feedback at this stage to ensure the design aligns with your expectations.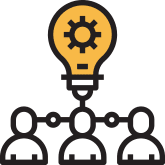 Design Execution
Upon approval of the concept, I commence with the design execution. As a quality web design freelance services provider, I pay attention to every detail, making sure the design is not only aesthetically pleasing but also user-friendly and functional.
Review & Revision
I value your feedback and aim for your absolute satisfaction. If necessary, I revise and refine the design until you are completely happy with it.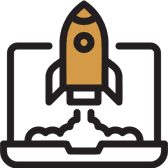 Launch & Delivery
Once the design is finalized, I assist in the website launch. I also provide necessary training for managing and updating the site, ensuring a smooth transition.
The Advantage of Hiring a Dedicated Website Designer
Hiring a dedicated website designer is a strategic decision that brings several benefits to your business, and I, Naman Modi, am committed to delivering these advantages to you.
Personalized Attention
As your dedicated web designer, I commit to focusing on your project, ensuring every detail aligns with your business goals and caters to your audience's preferences.
Seamless Integration
Understanding your brand intimately, I can design a website that seamlessly integrates with your overall marketing strategy, maintaining brand consistency across all platforms.
Cost-Effective
It is often more cost-effective to hire a dedicated web designer than working with a design agency, providing you with expert services without the overhead costs.
Consistent Communication
I believe in maintaining open and frequent communication, providing you with regular updates and staying responsive to your feedback and queries.
Continual Updates and Support
Web design doesn't end with the launch. I provide ongoing support and updates, ensuring your website remains current, secure, and aligned with evolving business needs.
Flexible Pricing Options Tailored to Your Needs
Understanding that each client has unique requirements and budget considerations, I offer two pricing models at Naman Modi Digital to accommodate your needs:
This model is ideal if you have a well-defined project with clear goals and deadlines. I assess the project's scope and provide a fixed quote that covers all the deliverables. 
Benefits:
Clear upfront cost for the entire project
Assurance that the project will stay within budget
Payment structured in milestones aligned with project delivery stages
This model works best for projects that are dynamic or where the scope isn't fully defined at the outset. You pay for the hours I work on your project. 
Benefits:
Flexibility to make changes and adjustments during the project
Billing only for actual hours worked
Regular updates on work progression and costs
Client Praise: Testimonials and Reviews
Below are just a few examples of the kind words that clients have shared about their experience working with me. Take a moment to read through them and see for yourself why choosing Naman Modi Digital for your web design needs could be the best decision for your business.
Frequently Asked Questions
Hire Naman Modi - Your Dedicated Web Designer Today!
As your freelance web designer, I promise to provide a personalized, hands-on approach, keeping your business goals and user experience at the forefront. Let's collaborate to build a website that not only looks great but also drives results.