When you want to grow your business fast, you need an excellent marketing method to help you. Search engine marketing or in short SEM is among these marketing methods. The online marketing world is quite harsh if you are not keen on new marketing trends—millions of ventures looking for ways to sway consumers to buy their products. SEM is the most efficient way to reach out.
Here are a few facts to help you know how vital this online marketing method is:
93% of Internet business starts with typing on the search bar
About 85% of retailers believe that they got their clients with the help of SEM
61% of marketers believe that their top priority in inbound marketing is SEO and growing their online presence
63% of online ventures say that the most challenging thing in marketing is driving traffic and leads
57% of B2B marketers believe that no other marketing method gives you more leads than SEO
Even though traffic increase almost immediately with SEM, conversion results will be seen in about 4-8 months
$30 million is the income that comes from mobile search spending
About three-quarters of Internet users will not go past the fifth page of search engines
In a nutshell, the stakes in search engines are high. There are plenty of jobs, and people know this very well. This guide will explore the various ways you can use SEM in your online business.
What Is A Search Engine Marketing Consultant?
As the name tells, this is the role of a search engine marketing consultant. Such an expert will work with brands to improve their sites' PPC and SEO. They also brand to find better ways to reach out to their prospects and convert them to loyal clients. To kick start SEO in your site, you need to assess a few things. In other words, you need to carry out an audit to assess each page using tools and software. This also allows you to know what SEO methods are put in place to improve searches.
Once the SEM consultant has an idea of what is missing in terms of SEO, he will devise a plan that is meant to give it a face-lift. The strategy will involve effective methods to meet set goals and ways to measure their impact. This will help them know if the strategy works or not. Even though it's going to take some time to measure this, it is worth it to help you get value for your money.
Besides SEO, an internet SEM consultant also works with PPC ads, where they help clients to pick proper keywords, target audiences, and other online advertising elements. You will realize that doing these tasks with SEM experts is easier than doing them alone. It will work well with SEO and other marketing methods to create cohesive campaigns.
SEM vs. SEO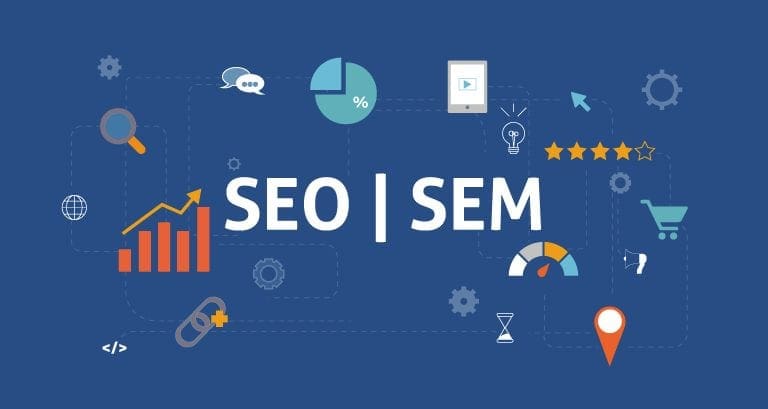 What is the difference between SEM versus SEO? Search engine marketing is all about paid marketing. It is all about brands paying Google to display their ads in search results. On the other hand, SEO is where brands earn their way by providing useful web content that users search for. This allows them to rank better on search engines using targeted keywords.
If you are running an online venture, you need to use both SEO and SEM to boost your online presence. While SEM provides the best way to use effective targeted adverts, SEO allows you to increase traffic on your site.
What is the work of Search Engine Marketing Consultants?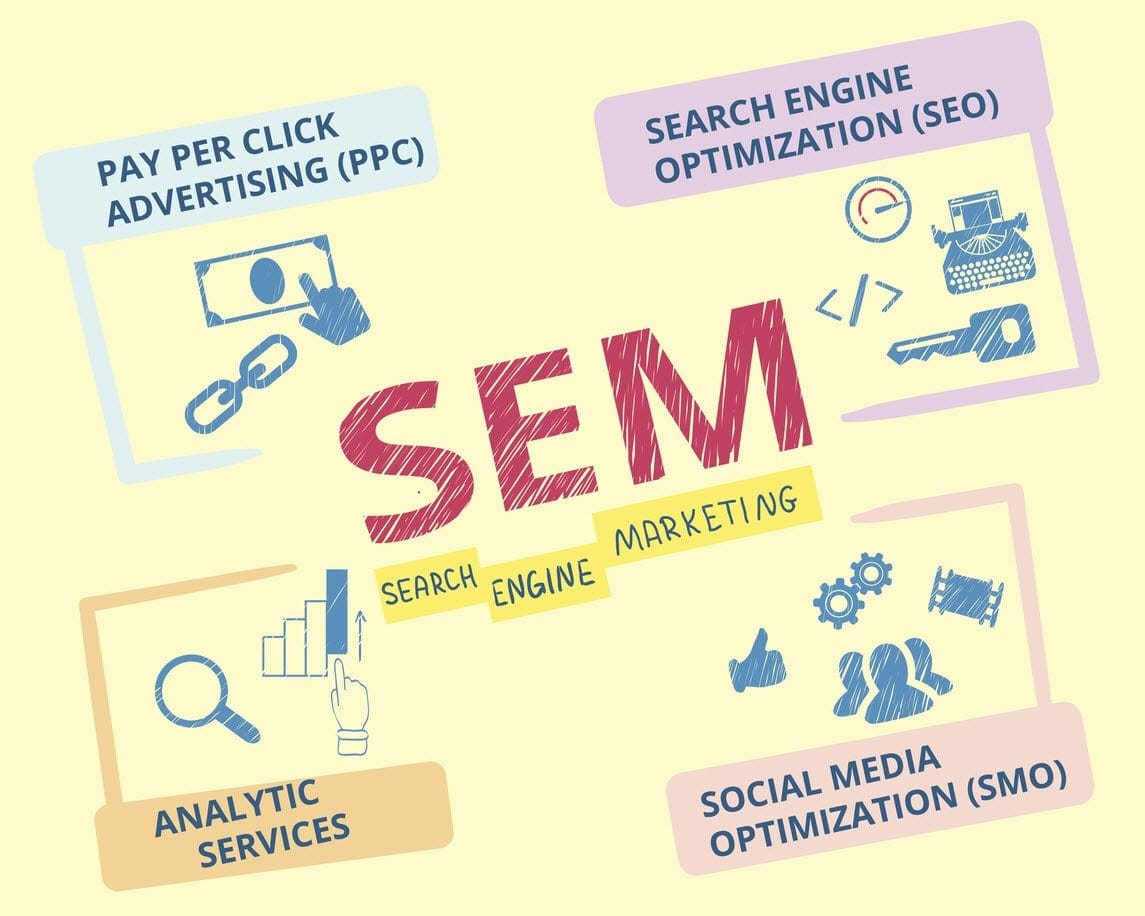 The rating of any website in search engines is based on the quality of the content it offers. Search engines also rate sites based on keywords, the number of links it has on other websites. The main role of SEM consultants is to analyze metrics on websites. After that, they will help brands by giving them ideas on how to improve rankings.
Search engine marketing keeps changing all the time. This is brought about by the nature of search engines. Search engines such as Google, Yahoo, and Bing change their algorithms regularly. This determines where the site ranks in these search engines. You will notice that there an algorithm update was made once a site suddenly disappears or moves up or down the search results.
If a page was dropped from the search engine, and SEM consultant would conduct several tests to get to the bottom of this sudden drop. After establishing the reasons behind it, he will devise ways to bring it to its former glory and higher. Other experts who work hand in hand with a marketing consultant include:
Search Engine Marketing Analysts
Internet Marketing Directors
Roles of Search Engine Marketing Consultants
Help to craft a brand's web content for SEO
He also helps to track, report, and analyze website analytics and PPC initiatives
Conduct tests by collecting and analyzing data to help come up with an effective strategy
Gives support and insight when creating marketing plans to help boost the site's ranking on search engines
Measure the impact of the brand's marketing and advertising programs
Conduct continuous keyword research, SEO, and expansion
Use the latest SEM trends and use updated tools in the ever-changing SEO world.
Create and organize SEO strategy for the entire company and advice the team on the best SEO practices
Why You Must Hire Search Engine Marketing Consultant?
Hiring an SEM consultant has many benefits for any brand that wants to stay on top. This kind of job is vital for all kinds of online ventures, including small and large ones. So, if you decide to hire such a person, what does your business stand to gain? Since this job involves internet marketers, they know how search engines work. It means that they can easily get to the bottom of the problem and solve it without much hassle. An SEM expert will help you increase site earnings by working on PPC and SEO. This is how they do this:
More Visitors
Since they bring in their expertise to improve your SERP, you will have more visitors visiting your site, and this will lead to more sales.
Better Reputation
They help brands build trust with search engines like Google, which is often one of the ranking factors that will get your website on the first page. You shouldn't ignore the worth of being on the first few pages of Google because this increases your site's visibility.
Greater Reach
Mistakes are bound to happen if you are new in the search engine world, and you want to improve your site ranking on your own. This is a risk that you don't want to take as it adversely affects your business. When you hire an expert in this field, he will go straight to the root of the problem and offer working solutions fast. Plus, he also knows how to reach clients from all over the world.
Reduce Advertising costs
An SEM expert offers the best option when you when your business depends on paid search or PPC. Such an expert will improve on this method of marketing by lowering the cost per click. These include on-page services that make it easy for clients to find you online. This allows you to channel the remaining funds to get more clients.
Improved Conversion Rates
Just because you drive insufficient traffic, it doesn't mean that you are going to sell more. That is why you need the services of a search marketing agency to improve the presence of each landing, service, or product page. Your ads will also have a greater reach by enhancing user experience, site performance, and efficiency in cost per click. He will also look into better ways to boost target and vital keywords. By looking into all these factors, he will lower the cost of getting new users and improve conversion.
How to Become a Search Engine Marketing Consultant
Bachelor's degree in marketing is the most common one when you want to become an SEO/SEM expert. This gives the student a stable theory foundation and career-based coursework. The course also equips the student with effective marketing tech skills. Some of them include:
Marketing Strategy
Marketing Research
Principles of Marketing
Consumer Behavior
Supply Chain Management
Organizational Behavior
Social Media Marketing or Marketing Research is also some of the specialized master's tracks that will give you an edge, but they are not necessary for SEM/SEO to work. Marketing tutions, boot camps, and digital marketing are practical courses. They feature free or cheap tuition, self-paced studies, and advice from industry experts. In SEO and SEM, there is no silver bullet solution since things keep changing all the time. Moz has given statistics that Google changes its algorithm 500–600 times every year. What you are going to need most is common sense and staying up to date with trending marketing methods. The bottom line is that you need to create unique and valuable content that helps to build backlinks and has longevity.
Below is a set of skills needed when you want to become a search engine consultant:
Creativity
Written communication
Critical and analytical thinking
If you have these skills, you will then require these relevant certifications for the job:
AMA Certified Professional Marketer
Facebook Advertising
Google AdWords
HubSpotHootSuite
DMA Certifications
Google Analytics
Conclusion
Website optimization services allow consumers to find what they are looking for online. As a brand, search engines increase your chances of being found online. One thing you should know is that it's not as easy as it seems to rank better in search engines. This type of marketing is quite demanding and requires the help of an expert. That is why you need a search engine marketing consultant. The best thing about hiring a consultant is that you will get diverse SEO solutions to help you improve your reach and convert prospects into loyal clients. If you decide to do it yourself, you may not have enough time to focus on your business. Plus, it will take a lot of time since you are not sure what you need to do to improve your SEO. SEM experts will get to the bottom of things and give you the desired results.
NamanModiDigital is an Award-Winning Los Angeles SEO company & San Diego SEO Company offering consultancy services in search engine marketing for Los Angeles & San Diego clients. If you want to see your website on the first page of Google, contact us for a free consultation as we discuss ways to improve your online business through paid search, search engine, or SEO.